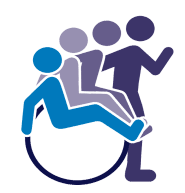 METHODS
Eleven adult participants (23-55 years old) with severe disabilities, both physical and intellectual, from a day treatment center, were recruited. Prior to the current intervention, all participants received only maintenance treatments (position
changes, management of pressure ulcers, etc.). They were assessed before and after the intervention using the Top-Down Motor Milestone scale to measure their level of gross motor skills and the Prompt Review Plan to measure the amount of help
they needed to maintain the different positions (sitting, walking, and standing). They received individual sessions of 1 hour 2-3 times a week. That consisted of practicing gross motor skills (sitting, walking, and standing) using the motor learning principles such as multiple repetitions and feedback as well as the necessary external aids assisting them to maintain the positions. External aids were reduced progressively as they reached some level of independence. In addition, the participants practiced motor skills for 1 hour a day as a group in their respective classrooms under the supervision of their instructors. Frequency, medium, and range were used to describe the performance of basic skills pre- mid-, and post-intervention. Friedmans' test was used to determine change across time, and the Wilcoxon test was used to determine the source of change. Bonferroni correction was used for repeated measures with significance set at p=0.008, and SPSS was used for analysis (version 27, SPSS, Inc., Chicago, IL).