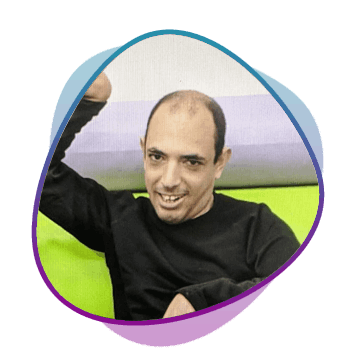 This treatment helps me a lot every day, in my treatments I learn to sit on a chair independently, it strengthens me and make me feel more independent. In the future, I hope to be able to sit on a chair instead of my wheelchair while I'm working in the workshop during the day. I used to sit in a chair many years ago but It is something that became difficult for me to do and I stopped practicing. Now I am happy to return to it gradually.

Walking with the help of the Walker is important to me now, also important that I'm not sitting in my wheelchair all day long, it gives me a lot of fun and the feeling that I can walk.
When I walk with the walker, we also play with a ball, it's a fun experience, it feels like I am a football player.

Ofer Polizer
Age:
30 years old
Diagnosis
:
Spastic tetraplegic cerebral palsy